I am so happy to share with you this Tiramisu recipe! It's one of my favorite desserts to make since I found it. It's easy to make and amazingly delicious. You don't need to bake anything and you still get to have a super yummy dessert!
Use room temperature ingredients
Mix everything for at least 5 minutes (either a stand mixer or simple mixer)
Don't get cheap when it comes to choosing the mascarpone (at least the medium budget class )
It's better to keep it in the fridge around 8 hours for a more intense taste but the minimum fridge time is 4 hours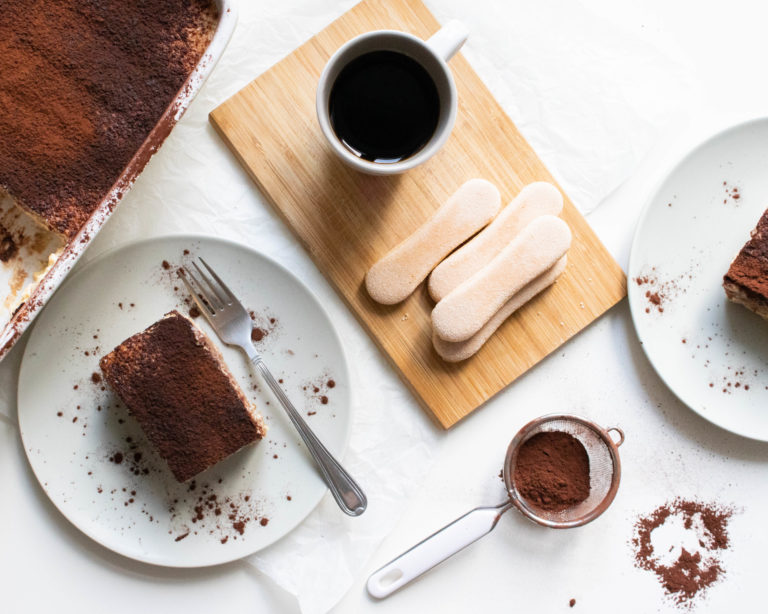 500 grams of mascarpone
3 eggs (separated)
115 grams/ 1/2 cup of sugar
100 ml / 1/4 cup of heavy cream
lemon juice from half lemon
450 ml / 2 cups of freshly made espresso
30-40 ladyfingers
60 ml/ 1/4 cup of rum or rum essence
cocoa powder (for finishing)
It's not very complicated to make this recipe, it's actually pretty simple and it doesn't require too much time either.
Mix the mascarpone until you get a creamy consistency
In a separate bowl, mix the sugar with the yolks until foamy
Pour the yolk composition over the mascarpone cream
Add the heavy cream over the yolk-mascarpone mixture and mix for at least 5 minutes (don't get lazy-the time is important)
Leave it in the fridge for at least 4 hours until serving
In another bowl, mix the egg whites with the lemon juice and mix until there is no more juice under the formed foam (for around 5 minutes)
Fold the lemon mixture into the mascarpone one – voila, you have the cream!
Mix the freshly brewed espresso with the rum and dip the lady fingers one by one – while you set them on the tray
Dust the cocoa powder over
Into the fridge for at least 4 hours